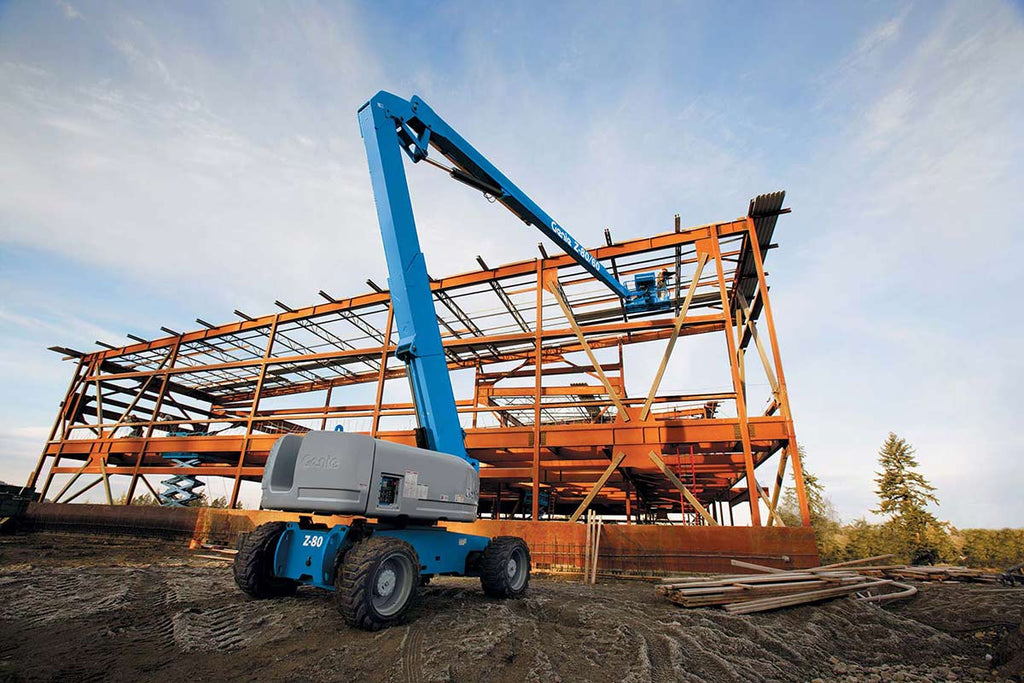 AusLift has a full range of access equipment available to hire for reaching elevated surfaces and working at elevated heights. From forklifts & cherry pickers to scissor lifts and more.
Hiring access equipment is a more affordable alternative to buying, especially for smaller tasks, whether it's for a construction site, event or warehouse storage.
The most important decision to make is selecting the right equipment for the job. Here are five things to consider when hiring access equipment.
Be clear about your requirements
Perhaps the most obvious thing to consider when hiring access equipment is what you need it for, as this will affect which type best suits your requirements.
Consider factors such as height requirements, as some lifts have height limitations. Specific lifts are needed for rough terrain, so it's important to know if it will be used inside or outside, or a combination of both. Consider whether the equipment you hire needs to carry people, heavy equipment or materials. Not all access equipment is suitable for lifting people. Some are designed purely for lifting smaller equipment and materials. If you do require a lift that can hold workers and equipment, you might want to consider choosing a lift that has a wider platform. This can end up saving time as workers will be able to keep the necessary tools with them while they work.
If you are working around or under various obstacles, like power lines, trees or structures, you will need a lift that can maneuver easily and safely.
Knowing your requirements from the start will make it easier to hire the right access equipment.
Choose the right type of equipment
Once you've determined your requirements for access equipment hire, you then need to choose the right equipment to match these requirements. Whether you require a scissor lift, boom lift, cherry picker, duct lift or forklift, each type of equipment is suited for different needs and uses.
A scissor lift is a vertical access solution which elevates workers to otherwise inaccessible areas. It's more flexible than permanent lifts and capable of lifting significant loads safely and efficiently. 
AusLift has both articulated knuckle and straight boom lifts for hire. The articulated knuckle boom features a bend in the crane to allow for flexibility in fitting around and over structures. While straight boom lifts provide horizontal reach to easily obtain an unobstructed view. 
Duct lift hire may be the best option if you simply need to move equipment or materials, and don't need to reach great heights. 
Cherry picker hire is best suited for tight spaces, where you need to reach high up or across.
Forklift hire
A vehicle for moving equipment and materials, forklifts often require a special license, so before hiring one you need to know the operator has the correct license. 
Know the project timeline
You want to ensure the access equipment you need is available for the period you need it, so make sure you have a timeline for the project of work. 
This should include wiggle room around when the equipment needs to be returned. You don't want to get caught out if your project goes over time and then be left without the necessary equipment to finish the job, or have to wait until you can hire it again. 
Check the equipment before you hire
It's important to know exactly what you're hiring, so always ask to look at the piece of equipment before you sign the contract. This will ensure the equipment works properly, is in good condition and gives you a chance to see how it operates, before you commit to hiring it. 
If there's anything you're unsure about, ask for a demonstration of the controls and any safety features. 
Any additional fees with hiring
Whether you're considering boom lift hire or forklift hire, often the decision is based on affordability. If you're working on a construction project, you likely have a specific budget for equipment hire.
When you know the timeline of the project, you can find out how much equipment hire will cost for that time. It's also worth finding out if there are any additional fees involved, such as for late return of equipment, any damage to the equipment, that could affect your total hiring costs.
You want to ensure you hire the right access equipment for the job, so you don't waste any time or money on the wrong thing. Contact the team at AusLift Equipment for your access equipment hiring needs.