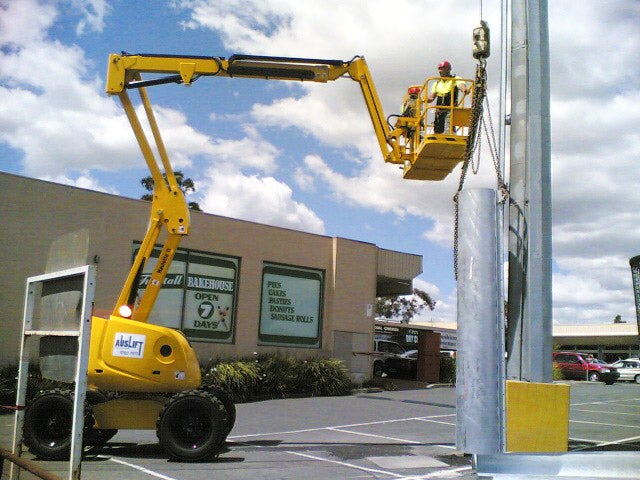 When you're organising cherry picker hire, or are considering a cherry picker for sale, knowing which unit to choose for your job can be confusing. Brand names aside, there are essentially three types of cherry picker, with varied features available.
The cherry picker you need will be the one that best matches conditions on your site and meets the requirements of the job at hand. Let's take a look at the main types in more detail.
Types of cherry pickers
You may have heard the name "cherry picker" used to describe Elevated Work Platforms (EWPs) of all varieties, however strictly speaking, a cherry picker is a trailer-mounted boom lift (or towable boom lift) with four outrigger legs. 
What we refer to as a "boom lift" is slightly different. It's usually self-propelled, and has the capability to move around on a job in its elevated position. Though not towed, it still needs to be transported to site via a truck.
With cherry picker and boom lift often used interchangeably, it's best to put names aside and focus instead on function. The important distinction to make is in what the EWP actually does on the job. This is where the terms telescopic (straight/stick) booms, articulating (knuckle) booms, and towable boom lifts matter more. 
Let's look at what these booms are.
Telescopic boom lifts (straight booms/stick booms)
The telescopic boom lift (also known as a straight boom or stick boom) has a boom that telescopes straight out from a stable pivoting base unit. Hydraulics on the boom hoist are used to extend and retract the boom.
The scope for a telescopic boom is both high and wide, so it's well-suited to large or open worksites as it needs a big space to reach its capacity. Due to its stable base, telescopic booms can generally reach greater heights than articulated booms.
Telescopic booms come in trailer-mounted or self-propelled versions. The self-propelled models can be electric, or 4WD All Terrain units, which can traverse rough and rocky surfaces.
Construction and maintenance workers love the extension and stability telescopic boom lifts provide.
Articulating boom lifts (knuckle booms)
Articulating booms (also called knuckle booms), have one or more bends or joints that straight booms don't possess. These bends/knuckles/joints allow the user flexibility when accessing challenging positions.
With each section able to be adjusted independently, the articulated boom can go "up and out" or "up and over" to access varying high locations. The base unit can be positioned close to the job for more stability, and requires little floor space. 
Articulated booms can tackle tight indoor spaces, or outdoor spaces that may have obstacles creating narrow working areas.
Articulating boom lifts can be self-propelled or trailer-mounted. Self-propelled models come as electric indoor units for confined spaces or 4WD Diesel models which work on any terrain.
Painters, warehousers and roofers find knuckle boom lifts to be the perfect tool to get them right to the job for safe and stable access.
Towable boom lifts
Towable boom lifts have an articulated boom and a turntable attached to a trailer chassis. They can be towed behind a vehicle, so in a sense they are convenient, however mobility once on site must be considered, as they will need to be towed between site locations when changing between tasks, and this will require a vehicle. 
Towable boom lifts are generally battery or gasoline powered.
5 ways a cherry picker can move
The five main movements a cherry picker is capable of are:
Slew movement

(movement of the body of the machine)

Vertical lift/Outreach

(movement of the boom or 'mast', either outward, or up and down)

Jib/Basket rotation

(the movement of the basket at the point of the boom)

Up and Over

(available with knuckle booms, where the basket can be raised up, then the top section lowered down from one of the 'knuckle' points)

Below reach

(machines that can extend downwards, which is achieved with a mix of outreach and jib rotation. This is only available on larger machines, typically the straight booms. You can find whether a machine has this capability on the respective boom lift's spec sheets)
Which cherry picker do I need?
Selecting the right cherry picker is a combination of thinking about the task at hand, assessing the worksite, reading specifications on the cherry picker, and looking at brands/models and their performance. Finally, you'll consider cost.
What do you need your cherry picker to do?
You need your cherry picker to lift up and over a high fence or wall 
An articulating boom will be best for this. 
Your job is on a mining site and you need to lift below the level the cherry picker sits on (a mix of outreach and jib rotation) 
In this case you'll want a larger machine with a very stable base, which will typically be a telescopic boom.
The job is something you can't quite complete using a ladder or scaffold, but you need flexibility
You may be best off with an articulating boom, which can fit into narrow spaces indoors, and can be manoeuvred into different positions and levels to suit where workers need to be. 
You're unable to get the base of the machine close to where you need to work 
A telescopic boom might work best, as you can swing the boom in from a greater distance.
You're mostly working indoors
You'll want something electric or battery powered, as OH&S regulations don't allow working diesel machinery in confined spaces
You're mostly working outdoors on rough or sloped terrain
A diesel model will be required to safely complete your work. 
You don't have a truck large enough to transport your cherry picker around
A towable boom lift may be the only option you can consider with a smaller vehicle.
Unsure about which cherry picker you need?
When considering a cherry picker for sale, it can be tedious to investigate all the options. Here at Auslift we carry a range of brands so that we can help you find the right machine for your job without a brand bias. 
Cherry pickers vary greatly between size and manufacturer. To be certain you're choosing the right machine for your needs, contact us for expert advice. 
Auslift Cherry Picker hire
We're more than happy to help you with your decision on buying or hiring a cherry picker. 
Auslift can answer all your questions and even visit your worksite to assess the conditions and recommend the most suitable cherry picker for you. Get in touch today.