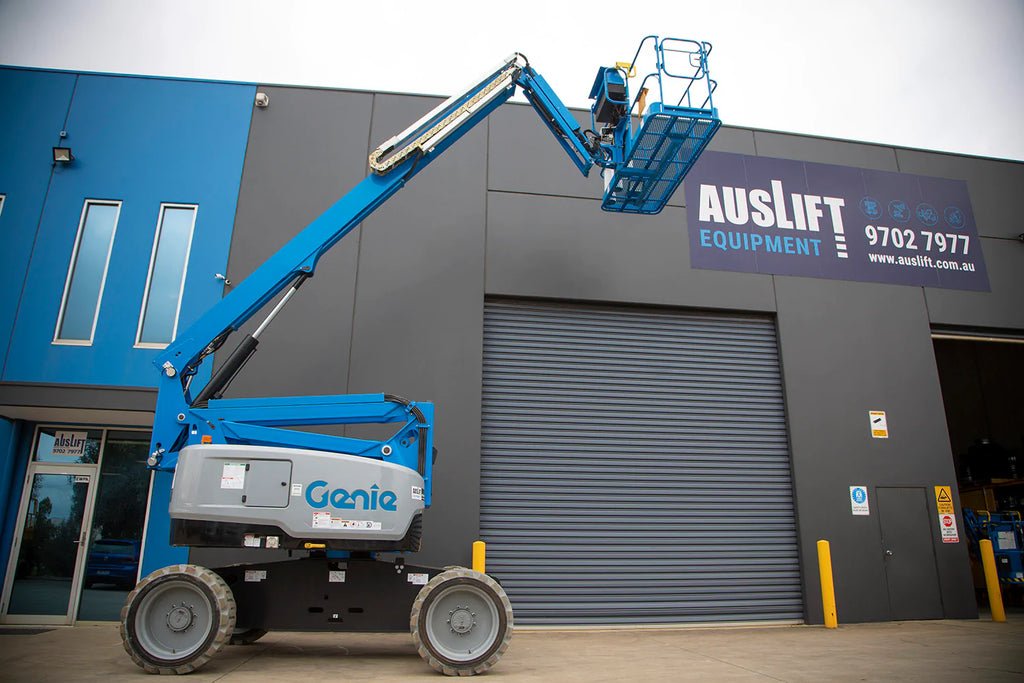 Located in Melbourne, Auslift provides a wide range of material lifts and heavy machinery for hire and sale. Safety is one of our biggest concerns when operating machinery. Articulated boom lifts are a great universal access solution. These kinds of lifts are fantastic for warehouses and shelving racks.
We stock boom lifts as used equipment for sale , straight boom lifts for sale or knuckle booms for sale. We also have a knuckle boom lift or straight boom lifts for hire. Knuckle boom lifts are a type of lift that comes in various styles to suit any project.
Straight boom lifts can be used as an elevated working platform to reach a tricky area. Knuckle boom lifts work with great flexibility due to their multiple extensions and moving arms allowing you to reach up and over into the spaces you need.
Due to being located in Melbourne, Australia, we understand and follow all of the strict regulatory occupational health and safety guidelines. However, when working with any material lift or large machinery, you can never be too safe.  We've broken down our top six considerations to stay safe when operating a boom lift.
1. Ensure the area around is clear before the start of use
This safety tip goes without saying for any kind of machinery. However, when operating a boom lift, due to its height, if tools or equipment were to drop, the circumference of the base is an area that should be kept clear. This also includes keeping people away from the base whilst in use.
Along with the base, the location of power lines also needs to be considered. These constitute a significant hazard and can cause severe damage to people in the boom's basket and the lift itself.
Preparing the area and notifying everyone involved is the best way to avoid harmful accidents. While this may seem like a redundant tip, it can save some severe damage.
2. Wearing all the right kinds of safety gear
Operating all kinds of machinery requires safety gear, whether a simple his-vis vest or rubber-soled shoes. These kinds of clothing can save accidents from happening. This type of safety gear is called personal protective equipment (PPE). What PPE you wear will depend on the job you complete and the regulatory occupational health and safety procedures.
In addition to wearing the right kinds of PPE, a boom lift's basket is fitted with a harness. As they extend to a great height, wearing the safety harness is imperative.
3. Verify that operators are trained
Having the proper training for those operating the boom lift. In Australia, the main portion of accidents that are from boom lifts is caused by the operator.
Operators need to hold a high-risk work licence to operate a boom lift where the boom lift can be stretched to 11m or more. Any new workers who are instructed to operate a boom lift should have their knowledge tested beforehand. Training should include stabilisation, positioning of the boom lift and fall protection.
4. Never exceed the weight capacity
Boom lifts can be beneficial when needing to haul equipment to a specific location; however, each lift comes with a weight limit. It's not something that should be exceeded. Everything, including workers that are in the basket of the boom lift, needs to be considered. Using scales provided at the worksite or prior will allow for the correct safety precaution to be taken with all accidents being avoided.
5. Pre-check all equipment before getting started
Like checking the area around the machine's base and above, a pre-inspection should also be completed of the boom lift itself. Although we only offer damage-free boom lifts for hire, we still recommend our customers go through their checks. The pre-inspection should cover machine components, lift components and a potential test with nothing in the basket for added safety.
6. Keep yourself inside the boom basket
Even when wearing a harness, there is still the possibility that you can fall out of the basket. To decrease the chances of this, keep yourself inside the basket. Avoid sitting, leaning or hanging over the side of the boom basket. Often workers are inclined to reach over and grab something rather than moving the entire boom. This isn't worth the risk and poses more risk to the worker and those below.
If you're in Melbourne and looking for a boom lift to hire or for sale, get in touch with one of our friendly team members. If a boom lift isn't suitable for your project and you're struggling to find what type of lift you need, we offer on-site visits to ensure you have the right tool for the right job.
Boom lifts must not be used without a licence as regulated by WorkSafe. This list is to be used as a guide only. Any operator must follow the laws and regulations required for the specific piece of machinery.