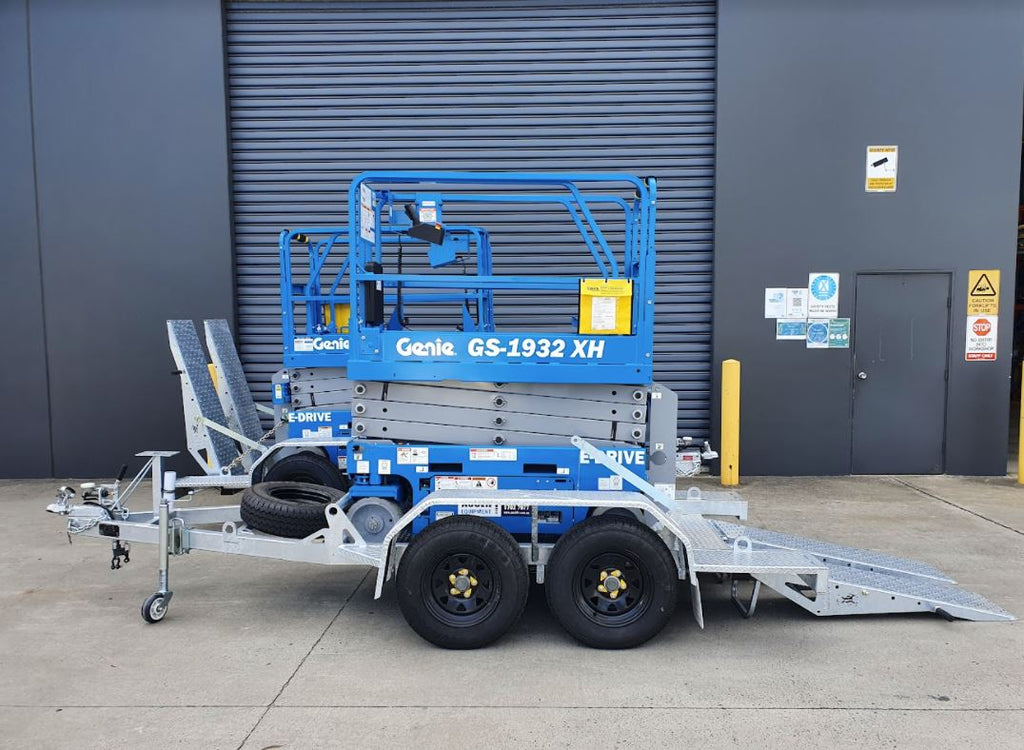 When you're looking for a scissor lift or boom lift for sale, how do you know you're buying from the right people, and does it even matter?
Auslifts experienced team of experts have a combined 70 years of knowledge to share about the machinery and building the industry. We have used a vast array of machinery in the field and in our hire fleet. Combined with our sales department and customer feedback, we are sure that we can recommend the best unit for your needs no matter the brand.
At Auslift, we know it does, which is why we've created the Auslift Certified Products range.
What are Auslift Certified Products?
There's a lot of equipment for sale out there, you may have worked with some suppliers already, or be scouting for a new supplier you can count on.
Not all suppliers with access equipment for sale have Auslifts experience, so it can be difficult to know you're getting the right advice from a seller, or that you're buying the right cherry picker or boom lift.
It's also incredibly frustrating when you order a machine, and don't receive what you expected. Once you've put the work into researching the best boom lift for sale, or you think you've found the perfect scissor lift for sale and have received your delivery, it's not like you can easily take it back if it doesn't meet your needs. You need more assurance upfront, before you make the investment.
For Victorian customers, we offer a hire to buy program so you can use the machine you are looking to purchase and test it in your business.
Auslift has been in business for over 35 years. Our experience means we're able to confidently recommend products we know will perform for you over the long term. This is why we've termed these products the Auslift Certified Products range. These are products we know and trust so well, that we supply them as part of our own hire fleet.
Auslift Certified Products are:
top quality
reliable and durable, so they last your business a long time
competitively priced, without dropping features we know you need
made by the leading aerial access and material handling manufacturers in the market
tried and tested by Auslift to ensure they're passed for commercial use.
Why Auslift?
Auslift has invested a lot of time into working with best-in-class scissor lifts, forklifts, boom lifts and cherry pickers. Read on to understand how we come to label a machine 'Auslift Certified'.
Quality brands
Auslift backs the top brands in the industry, and years of working with these brands means we've been around for all the product launches, updates and new feature additions. We know the machines tradespeople can rely on, and have tried and rejected the ones that don't meet our stringent standards.
The brands we supply are pioneers in their own right—known for high performance, reliability and toughness. GENIE JLG HAULOTTE SNORKEL SINOBOOM HYSTER DHE JD POWER are all brands that we deal with and recommend. Work site tough and reliable units.
A machine will always be a significant investment for a business, whether it be hire or buy. We ensure customers get value for money by supplying only the highest quality, most reliable machines, best suited to your jobs.
One top brand we work with is Snorkel, which always makes our Auslift Certified Product list.
Over the years, Snorkel have proven themselves to be solid and reliable manufacturers. As an example, the Snorkel 22Ft Rough Terrain Diesel Scissor Lift and the Snorkel 27Ft Rough Terrain Diesel Scissor Lift are top of the range machines. Made in New Zealand to Australian Compliance and regulation standards, they offer full operator safety. Ideal for tight access situations, they have an aluminium deck and non-marking tyres, a reliable Kubota engine, and readily available replacement parts and maintenance. You can easily transport them on a trailer with a 3-5 tonne tow capacity.
Our other brands of scissor lifts, forklifts, boom lifts, cherry pickers, genie lifts and manlifts, (JLG, Genie, Haulotte and others), are also known for solid performance on the job, and all come with a full manufacturer's warranty at purchase.
Competitive pricing with the features
There are equipment suppliers out there who engage in quality and feature reductions in order to lure you in with 'competitive' rates. This might seem fair (of course you want to spend the least amount possible when you're looking for a boom lift for sale), but going with the lowest price is not a good deal if you come away with less than what you need from a machine.
Price matters, and machines are a significant investment. You need to make sure your investment is worth it. This is why you shouldn't drop features you definitely need.
Our long experience working in the industry as tradespeople actually using these machines, means we know the features you need to complete a job. We won't sell or hire you a machine if we know it won't do what you need it to.
In addition, our 30 years in the business has seen us build strong relationships with the major manufacturers in our industry, which means the best prices for you. We don't need to engage in quality or feature reductions to provide Australia's most competitive rates.
Real experience
Auslift is composed of equipment experts with real experience working as tradespeople in the construction industry. Long personal experience as carpenters, electricians and plumbers means we've actually used the machines we sell. We know the complexities of height jobs, and how to match a machine to a task.
We know the quirks of different machines, what features you need, and what issues you want to avoid, because we've used these machines for so long ourselves, and provided machines for others for over thirty years. Rather than guessing, we listen to what you need, make an assessment, and give you honest information and advice.
We offer Try Before You Buy
If you're not exactly sure if a machine is right, you can take up the opportunity to Try Before You Buy. Before investing, you get a chance to hire the machine, see if it's right, and the hire cost will be deducted from the sale price if you proceed with a purchase. Read more about it here.
So if you're looking for a boom lift for sale, or need to buy a scissor lift or cherry picker for your business, we can sort you out.
Submit an enquiry today, or give us a call 03 9702 7977.