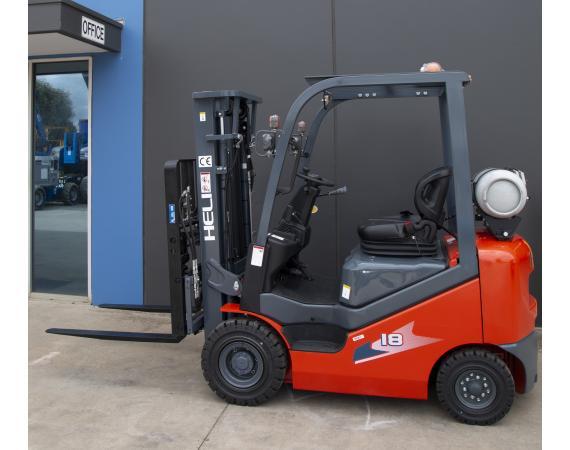 Forklifts might look like they're oversized go-karts that are easy to operate, but they are actually highly specialised pieces of equipment that require adequate training and experience to use. If you're wondering how to drive a forklift, then read on.
Forklift Licence
The first thing to know about driving a forklift is that it requires a high-risk work licence (HRWL) in Australia, in order to operate one. This is obviously quite different to a normal drivers' licence, something which is not required to drive a forklift. Gaining a forklift licence requires you to undertake a forklift training course and then complete and pass a written and practical evaluation. There are two main classes of forklifts used, known as 'LF' and 'LO', each requiring you to obtain a different kind of licence.
LF vs LO
You've likely seen the acronyms 'LF' and 'LO' used in regards to forklifts and while they are similar, they perform their operations in quite different ways. 'LF' and 'LO' refer specifically to the type of forklift licence needed to operate the different types of machinery. A 'LF' licence allows you to operate a forklift truck 'equipped with a mast and an elevating load carriage with a pair of fork arms or other attachment', while a 'LO' licence allows you to operate 'an order picking forklift truck where the operator's control elevates with the load carriage/lifting media'.
In other words, LF-type forklifts are where the operator remains behind the controls and the fork or other attachment lifts the goods, whereas LO-type forklifts are where the operator and the controls are moved up and down so that the forklift driver can gain access to goods directly themselves (hence the 'order picking' part).
Types Of Forklifts
As well as there being different classes of forklifts, there are also many different kinds of forklifts which can be used for varied purposes. The most common type of forklift is the counterbalance forklift, which has a weight on the back of the frame which helps to maintain balance when there is a load on the forks. Other types of forklifts include:
Reach, which, given their name, are able to reach up to heights that ordinary forklifts cannot;

Telehandler, which have extendable arms (like a boom lift), making them useful for delivering loads (such as timber or other building supplies) to high places;

Rough Terrain, which have heavy-duty tyres and are rugged enough to carry loads over uneven ground;

Walkie Stackers, which usually don't have seats and the operator walks behind them, having the added benefit of manoeuvrability due to the stacker's compact size;

Sideloaders, which are useful for small spaces as they lift from the side, rather than the front.
Attachments
It's possible to achieve many different tasks with the same forklift due to the number of different attachments available. Some of these attachments include:
- Safety cage, which allows workers to use the forklift like a boom lift.
- Tipping bin, for carrying and tipping a range of goods such as stone or rubbish.
- Tyne hook, for lifting goods using the power of the forklift.
- Spreader, for lifting extra-wide loads.
- Drum lifter, for lifting metal drums.
- Tyne Extension Slippers, for temporarily increasing the length of fork tynes. 
Once you've undertaken the relevant forklift training and successfully gained your forklift licence, you will need to hire or buy a forklift for your business, as well as a range of attachments. Auslift are the experts when it comes to the hire and sales of access equipment. See our range of forklifts for hire and sale, or contact us for more information.
1
https://www.safework.nsw.gov.au/licences-and-registrations/licences/high-risk-work-licences/hrw-accordions/forklift-licences