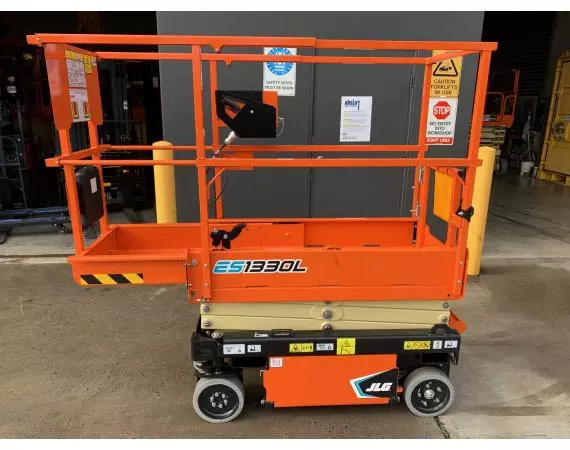 If you need to lift a number of workers and heavy tools to an extended height, a scissor lift is an ideal machine for the job. This blog will detail the different kinds of
scissor lifts
available and how they can help you get the job done.
A scissor lift is one of the most easily recognisable pieces of lifting equipment due to the criss-cross arrangement of supports which resemble a pair of scissors when they are being opened. Scissor lifts are vertical lifts that range from 6 to 18-metre working heights and are known as
MEWP
(Mobile Elevating Work Platform) or more commonly an EWP (Elevating Work Platform).
What machine works for you varies on what you need for the job.
Access machinery is generally categorised by indoor and outdoor machinery. Indoors machinery can only be used in level and stable environments. These machines are typically electric or hybrid. Whereas outdoor machinery or
rough-terrain
machines are hybrid, diesel or petrol.
Electric machines are the most environmentally friendly kind of scissor lift as they use electric engines to power the lift mechanism. They are safe to use in small spaces as they aren't too noisy and they don't emit fumes. The smaller ranges available are able to fit through a standard doorway for ease of access to indoor sites. Although some electric machinery still has hydraulic or pneumatic drive systems, they are being phased out for electric drive machines which are comparatively cheaper and easier to maintain.
Diesel and petrol scissor lifts are for outdoor, rough-terrain use. Although they are more powerful than electric machines, they are not safe for indoor use as they are quite loud and emit fumes. With their
4WD
capabilities and an average of a 30% gradient (varies by machine), they are suitable for almost any surface and can be stabilised with their extendable outriggers. Diesel scissor lifts feature large platforms and large lift capacities so are able to transport more people and tools.
Hybrid machinery uses both electric and diesel/petrol power so it can be suitable for indoor or outdoor use. Due to the dual capabilities of electric and diesel/petrol, these machines are safe to use indoors with electric power and can do the hard yards outdoors with the diesel/petrol.
As scissor lifts are strictly vertical lifts, they are not suitable for jobs requiring 'up and over access.
We strongly recommend undergoing your
Yellow Card
, the scissor lift EWP licence to operate a scissor lift under 11m. The Yellow Card Training Program has been designed to develop the skills and knowledge required to operate Mobile Elevating Work Platforms. Please see the EWPA website for more information on Yellow Cards and how you can mitigate risk in your workplace
https://ewpa.com.au/yellow-card/
.
Auslift can help you find the right scissor lift for the job. Hire and sales units available, call us on
(03) 9702 7977
for expert industry advice.